What is Google Home Services & FAQ about GHS
By now you might have heard about Google updating its offerings once again. This time it is a new paid search offering titled Google Home Services. Currently at the time of this post 8/12/17, it has rolled out to several areas including Greater San Diego, Greater Los Angeles, San Francisco Bay area, Greater Sacramento, and Stockton. With another Google advertising addition, your organic results have rolled even further down the page, and now even your Adwords ads are being pushed further down the page as well.   
What is Google Home Services?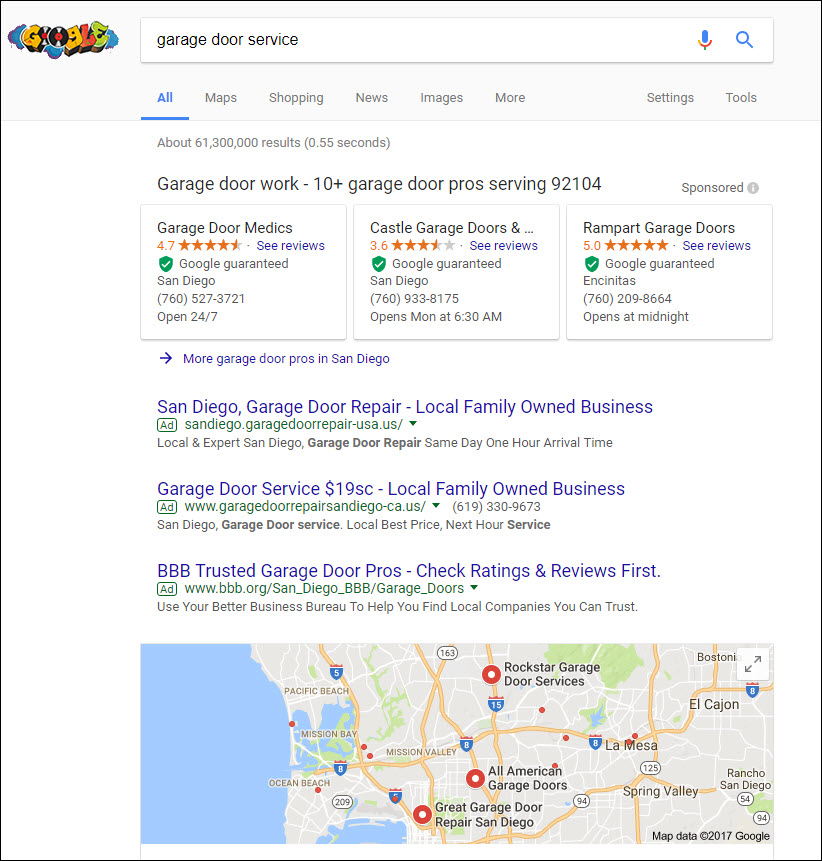 Google Home Services, also being called GHSA or GHS as we like to call it, is a new form of giving searchers Google-trusted purchasing options. Google has learned that some industries more than others would benefit from a little trusted source guarantee as internet consumers are become more and more cautious about the quality search ads. These GHS listings offer consumers another way to feel like they can trust the actual businesses they are clicking to. A small green check icon indicates a company is a "Google Guaranteed" listing. The position of these ads coupled with this trust badge, makes this a potentially significant shift in how Google advertiser reach their customers.
Here's how it works: As illustrated in the picture to the right, we typed "Garage Door Service" into the Google search query. Note: The entire first page doesn't show a single organic search result. The first thing we come across are the Google Home Services ads front and center with ratings, phone numbers, and a nice Google Guaranteed trust icon. Next, we see three paid advertisements where at times it feels like Russian roulette in terms of the quality of the company who is advertising. In order to see any organic search results, we have to scroll further down the page. With the entire first being only ads, the quality and trustworthiness of the Google Home Services ads can be a big factor in consumers purchasing decisions, if they know the company they choose has a Google Guarantee.   
What is the Google Guarantee?

Once you click on a Google Home Service ad that features the green check-mark, this sentence appears at the top of the following page: "Pros are screened and insured. You're guaranteed to get the job done right or your money back. Learn more." If you click on "Learn More," you will find a more detailed explanation of what the Google Guarantee really means. Here is what the support page will tell you: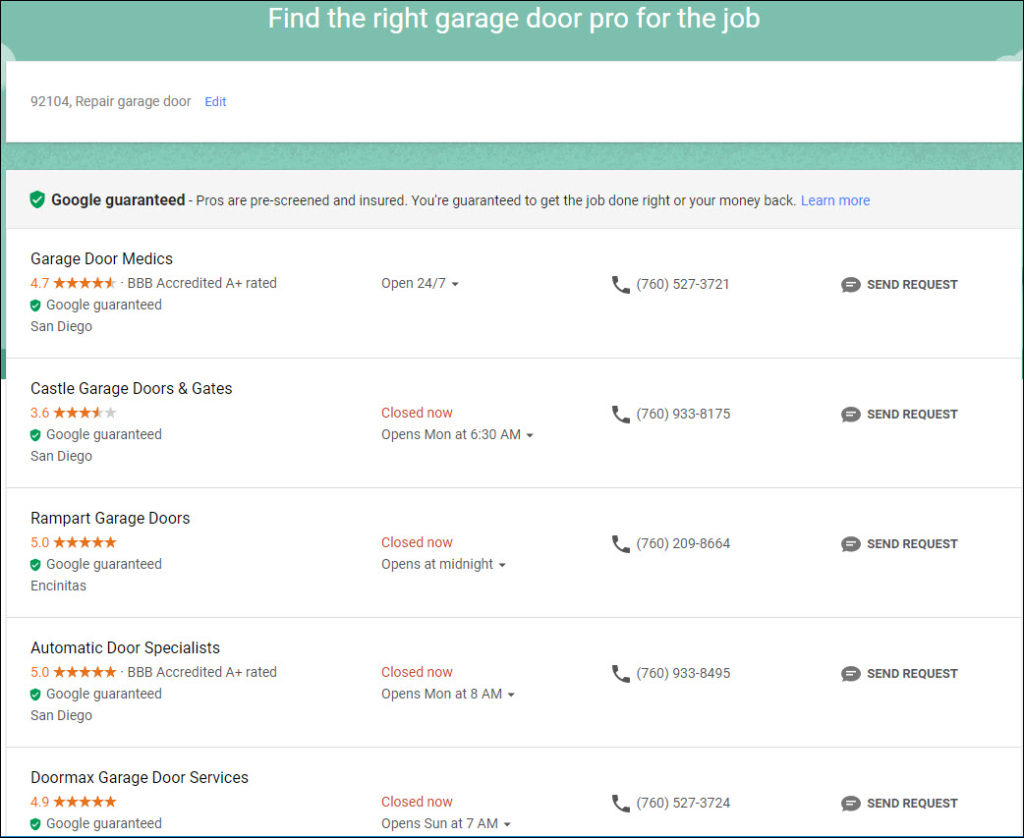 "Google guaranteed pros are pre-screened and meet relevant insurance and licensing requirements. When you book an eligible home service pro on Google, you're protected by the guarantee."

"If you're not satisfied with the work quality, we'll cover claims up to the job invoice amount, with a lifetime cap of $2,000. Your job must be booked through Home Services. Add-on or future projects, damages to property, dissatisfaction with price or provider responsiveness, and cancellations aren't covered."

"Claims must be submitted within 30 days of the job completion date."

"You can identify an eligible pro because they have the Google guaranteed symbol

by their name and on their profile page."
If you are ever dissatisfied with the service your receive from a business that the Google Guarantee symbol recommended, you have 30 days to file a claim. But make sure to read up on exactly what Google will cover because there are some exclusions to this rule.
Mobile Experience
If you're like most companies, you've seen a huge increase in your mobile traffic. In some cases, mobile traffic has surpassed desktop and tablet traffic combined. So how will Google Home Services affect your mobile traffic? As seen in the screenshot to the left, GHS takes up more almost all of the screen while anything that is leftover, is swallowed up by an ad.
How will GHS affect me?
The first thing you might ask is, how specifically will this impact me. Slow down, breathe, it's not the end of the world. This is not a completely uniform switch, and Google is not planning to go into action everywhere right this moment. For example, it is currently scheduled to roll-out in select cities which we have listed below, but is planning to expand to many other major metropolitan areas in the next couple of years. Furthermore, this only affects certain industries; cleaning, handymen, home improvement, electrician, painter, locksmiths, garage door service, plumbing, roadside assistance, auto glass, appliance repair, and is expanding to include the HVAC services.
Here is a list of industries and regions:
San Francisco Bay Area

San Diego

Sacramento

Stockton

Los Angeles

Philadelphia

Phoenix

Atlanta

Baltimore

Seattle

Chicago

New York

Washington, DC

Electricians

General contractor

Garage door services

Roadside assistance

Auto glass

Painting

Handyman

Home cleaning

Home Improvement

Plumbing

Appliance repair categories



How much will GHS cost?
To be fair, this is a very new product offering, therefore the price is still mostly unknown. However, what we do know is that these particular ads will operate under a "Cost per Lead" basis instead of the usual "Cost per Click" basis like the industry norm for PPC platforms. Google has hinted that these cost per leads should range anywhere between $12-$24. These costs will likely fluctuate with region, industry, competition, and time of day/week.
Where do GHS reviews come from?
You might have noticed Google pushing you to get more and more reviews on your Google My Business profile. Well, now we know why. These Google My Business listings offer Google most of the information it needs to populate Google Home Services ratings. The key takeaway here is to make sure your Google My Business Profiles are up to date, garnering good reviews, and the listing in its totality is accurate. Many inaccuracies or inconsistencies across platforms could prove to be costly in your appearance as "trustworthy" to Google and in turn, your ability to bring in potential customers.
How do I join GHS and adapt?
If you haven't applied to be a part of this program, you should do so immediately or call us to help you start gathering all the necessary data. The process can be a little long depending on how many guidelines you'll need to fix and get your accounts up to date. We have gathered a few head start tips here to help you get the ball rolling on joining Google Home Services.
Contact us or your Google rep directly and ask them to send you a personalized Google Home Services spreadsheet application.

Get all required information into spreadsheet. Unfortunately, we can't gather every single detail for you due to Googles guidelines but here are some of the required details:
Business Info

Name

Phone Number

Address

Date Founded

License Number

Liability Insurance info

Service Areas

Website and Google Business Profiles

Client ID and Adwords account info
If you have a franchise that services multiple locations, make sure all Adwords and Bing accounts are split into separate accounts per each location.

Once all of your details are in order, and your profiles are up to date, you should be approved to join the exclusive Google Home Services club.
We hope this blog has helped you understand the new changes to Google's advertising platform, and if you have any questions, please feel free to contact us and we'll be happy to answer anything we can.